CYCLONE ALERT for Onslow to Jurien Bay in the Midwest-Gascoyne, Pilbara A Cyclo…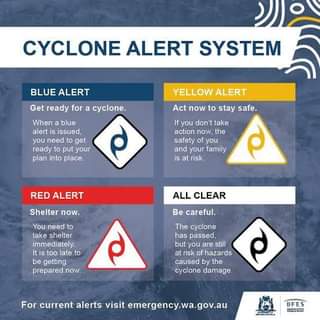 CYCLONE ALERT for Onslow to Jurien Bay in the Midwest-Gascoyne, Pilbara
A Cyclone Advice is current for people in or near Onslow to Jurien Bay in the Midwest-Gascoyne, Pilbara
If you live or are travelling
between Onslow and Jurien Bay in the Midwest Gascoyne and Pilbara, you need to prepare your home and family for a cyclone tracking off the Western Australian coast.
Cyclones can be incredibly dangerous, bringing heavy rain, flooding, gales and ocean swells.
Heavy rainfall can also affect roads, making travel difficult or even unsafe. Some roads may be closed for a period of time.
People who are travelling or planning to travel through the area, on land or offshore, need to stay informed… More